6 ways the new BB101 will impact school building design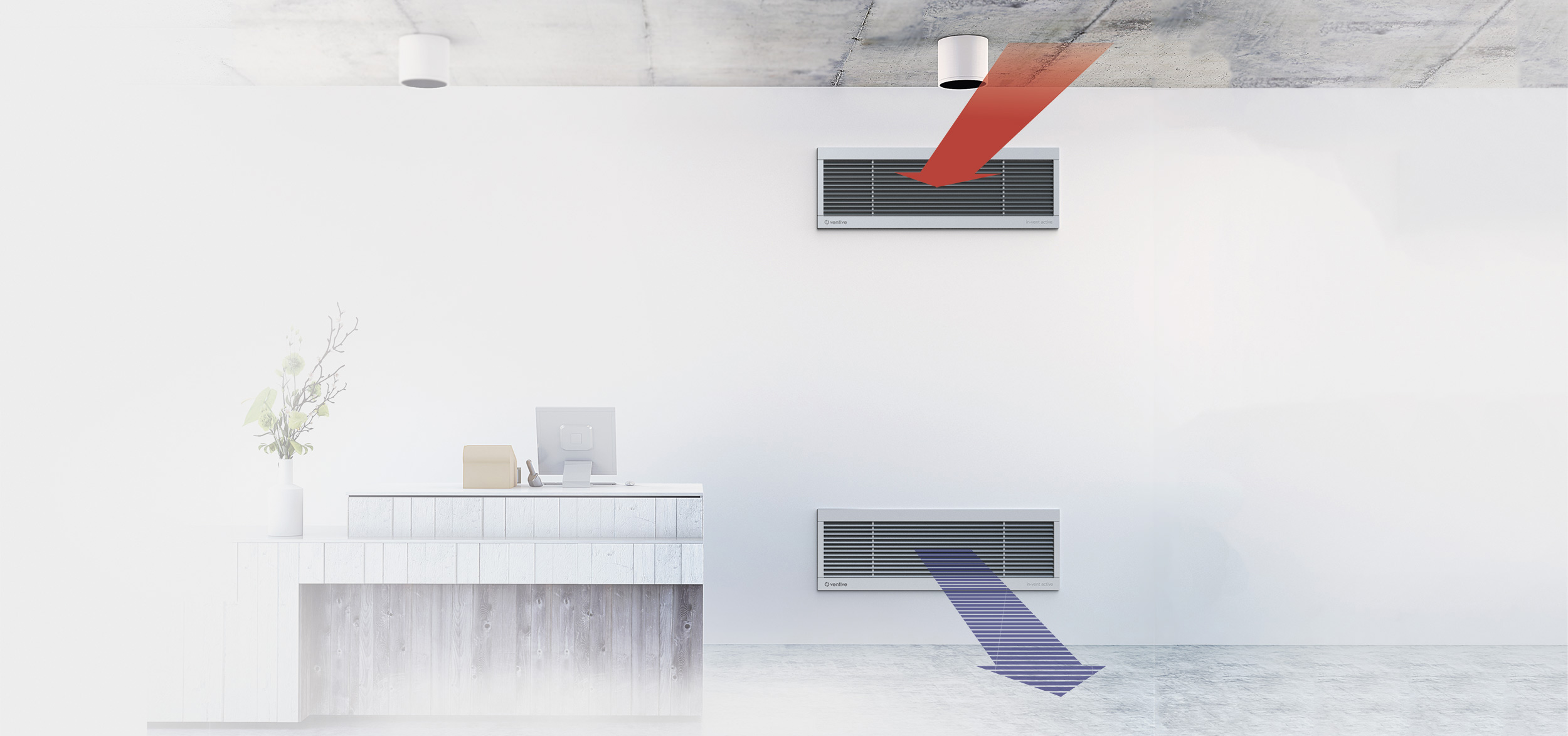 Rob Morrison, managing director of Ventive
The new BB101 was released earlier this month, a long-awaited update on the original document that was published in 2006. In the 12 intervening years a lot has happened in terms of technological innovation, climate change and a greater understanding of how building design affects occupant productivity. This update seeks to address this by addressing the major factors that influence the design:
the adaptability of the building to changes in occupants' needs, changes in outside noise levels and pollution, and future climate change
the use and maintenance of the building and its technologies
low energy performance
life cycle and operational running costs
sustainability
It is 161 pages long, you can read it for yourself here. Or if you don't feel up to it, I can share some of the biggest changes and discuss how they will impact the design of schools in the coming years. Click the button at the end to contact Ventive about a CPD course.
1. Temperature limits on air supply
Thermal comfort is a common theme throughout the document, and a new section has appeared on the temperature limits of air supply for natural ventilation systems. To avoid cold draughts during the heating season, the incoming air supply cannot be more than 5°C lower than the normal maintained temperature (20°C for classrooms), dropping to a limit of 3°C for Category I spaces (for students with special needs or under the age of 5). It demands a highly efficient method of heat recovery in a bid to reduce cold draughts and reduce the reliance on heating systems.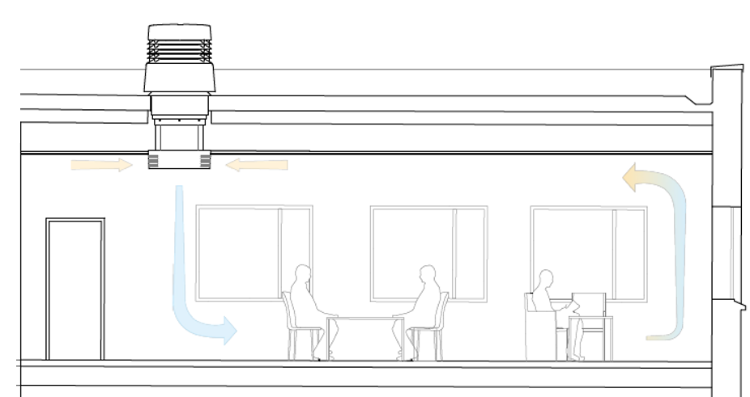 Air supply to classrooms must be tempered for occupant comfort
2. Overheating
On the other hand, BB101 recommends taking a multi-pronged approach to preventing overheating during warmer months. Night-time cooling and purge mode is suggested to reduce the operative temperature before each school day begins, through ceiling vents for greater security. Adaptive thermal comfort models are now used to reflect people's ability to adapt to gradual temperature increases, giving a more common sense look to acceptable temperatures inside classrooms. Finally, to mitigate thermal increases the document suggests that schools should allow a relaxation of their rules around formal uniform dress in a bid to allow individual adaptation to conditions.
3. Average C02 levels unchanged
For natural ventilation systems, the C02 levels in classrooms and general teaching spaces should be below 1500ppm across a daily average, while the concentration should not be higher than 2000ppm for more than 20 consecutive minutes. The measurement of C02 levels is to be taken at head height in all teaching spaces, which is to say 1.1m for primary school and 1.4m for secondary school. The figure below shows results from Ventive's monitoring of a primary school.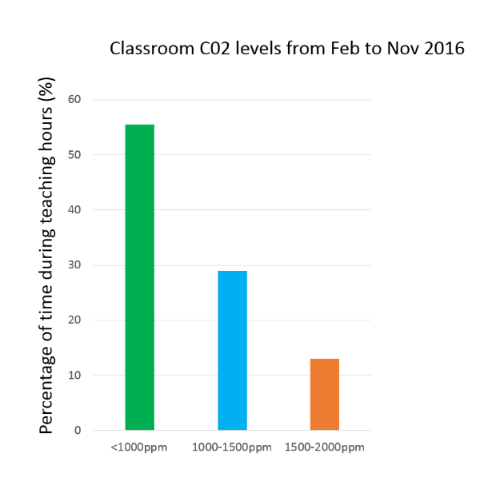 C02 levels were below 1500ppm for 86% of teaching time
4. User control & alerts
Greater levels of user control are recommended for ventilation and heating systems. Occupants should be able to increase or reduction of ventilation rates as required, maintain acceptable indoor air quality and avoid cold draughts or excessive energy consumption in the heating season. The message is clear; ventilation systems need to be nuanced enough to adapt to the changing demands of schools throughout the year. In fact it promotes greater integration with heating systems to ensure that energy usage is optimised, and greater collaboration with school users to ensure they are aware of classroom conditions (temperature and C02 sensor) and fully trained on how to operate the ventilation systems where necessary. Getting feedback on real-life classroom data is critical to showing how the ventilation system is performing, and finding ways to optimise.
5. Life cycle and maintenance
Continuing with the theme of ensuring schools get the right equipment, there is an emphasis on the life cycle and operational running costs of all systems. Life cycle costs should include energy, cleaning and maintenance costs as systems with low initial capital costs may have unaffordable running costs. Fans, filters and heat exchangers should be easily accessible for maintenance and to inspect for contamination and easy to clean. Manufacturers will need to be more precise on what the total cost of ownership for the end user is, as well as contingency planning for maintenance and repair.
6. Weather testing
As we all know too well, the summer heatwave is only one side of the challenging weather conditions we experience in the UK. Ventilation systems must now be able to withstand winds of up to 30mph without creating a situation where the room becomes pressurised, thereby making doors difficult to open. Additionally, tests need to be carried out on dampers and external louvres to ensure no unwanted leakages take place during rainy periods. A welcome addition to the regulations to ensure that equipment supplied is up to scratch.
Ventive is a RIBA-certified CPD course provider on ventilation strategies. Click the button below to reserve your next CPD and get the details on what the new BB101 means for your upcoming projects.